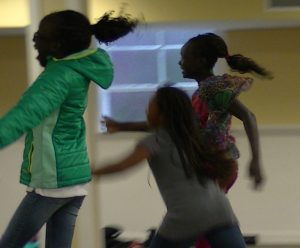 I head up a ministry in which we invite the at-risk students of an after-school program to our church once a week for classes in art, music, sewing, crafts, cooking — whatever I can find teachers for. It's a lot of work, as you can imagine.
This semester, we are doing a music video. With the help of some of the kids a few years ago, I wrote a rap. (Yep, I wrote a rap.) A great guy in town who has a video company is going to shoot and edit it for us. What I planned to work on today with the kids was practicing the song.
Except they weren't into it. Shyness, young teen "coolness", the lack of a music leader — all of that resulted in a bunch of kids staring at me like I was asking them to eat rotten apples. I got frustrated and told them none of us had to be there. Their teacher stood up and read them the riot act. I wasn't sure what was going to happen next.
And then our star music student played a beat on the keyboard. Some of the kids started singing. The other kids joined in in loud boisterous voices. It certainly wasn't pretty. It is still a long way from good. But all the sudden, we were having fun. And almost everyone was joining in. Even some of the girls who have been "too cool for the room" all year did the rap.
The lesson for me was, the kids weren't at fault. I was. Because I was failing to make it fun. It wasn't intentional. I always want them to have fun, but for whatever reason, I wasn't accomplishing that. Once it became fun, they participated.
I think the same applies to ourselves. If we want to create, to be truly inspired in what we do, we have to include play. I'm not saying work won't enter into it. Because it will. But first, it has to be fun.