I was an avid reader as a teenager. I read a bit of everything, but the two kinds of books I remember seeking out were: 1) Gothic romances – young woman goes to work for a dark, mysterious man in an English castle, and 2) Stephen King books. To this day, I still read suspenseful romance. And the first books I've written are thrillers in an attempt to mimic what I felt reading a Stephen King novel.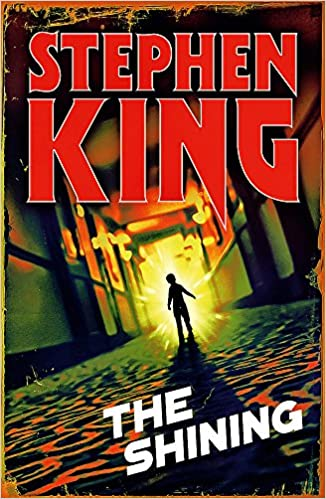 Don't get me wrong. I'm not trying to write books like Stephen King's. Frankly, some of his books are just too frightening. I saw a post on social media the other day asking about the scariest book you've ever read. I saw "It" in the comments and had to agree. Until I saw "Pet Sematary", and I thought "oh yeah, that one really got me." And then I scrolled down and saw "The Shining" in the comments. And yes, that may be it for me. "The Shining" had me questioning reality.

I was just out of college, living at home with my parents for the summer before I started searching for a job in earnest. I had read a lot of Stephen King books, and I loved his writing. Not the horror elements really. What I loved was the suspense he was able to build within the pages. "The Dead Zone" and "Firestarter" were a couple of my favorites. But that summer, I read "The Shining".

I know this is cliché, but the movie didn't do the book justice. The book was terrifying. I vividly remember being afraid of the evil bushes that came to life. Bushes. That's the brilliance of Stephen King. He can wring so much emotion out of a reader. He can make even nonsense seem real.
I was up really late one night, reading the last part of "The Shining". I still had a couple of hours to go, and I decided I should just finish it the next day. I was lying in the dark, not having much luck falling asleep, when my whole bed shook. I am not kidding you. My bed shook. Hard. And then something fell in my closet. The rational part of me tried to reason that I had just experienced an earthquake. But the far less logical part of me was still roaming around a malevolent hotel and dodging evil bushes. I wandered around the house, checking in on my parents. They were still asleep. Not even the dog was awake. I crawled back in bed and tried to convince myself that something wicked hadn't followed me out of the pages into real life.
I didn't get much sleep that night. When I got up, I was greatly relieved to hear them talking about the overnight earthquake on the news. At some point during the day, I finished "The Shining". And I swore off Stephen King books for a while.
There is something magical about books, about stories. What a fascinating thing that mere words can transport us to worlds that are so tangible, they preempt reality. The inspiration of Stephen King's ability to create such mythical yet realistic landscapes in my mind is one of the reasons why I now write books.
It's also why I still shy away from bushes in the dark.