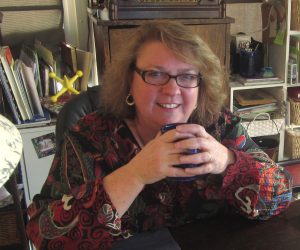 Jennifer Anderson, Writer:
I cut my teeth on Stephen King. Not because I like horror. In fact, I don't like to be scared, and I had to sleep with the lights on after reading "It" and "The Shining".  But I was enticed by his stories, his power to make me turn page after page into the wee hours of the morning, his ability to paint outlandish worlds that seemed so real. And his words. I loved his words.
It was my 6th grade language arts teacher (and by a stroke of luck, 7th grade as well) who first told me I had talent. I owe Mr. Rhine so much. He made me feel like a writer. And so, it was in junior high school that I decided I wanted to write. Like Stephen King.
I did become a writer. Though not of fiction. With a degree from the University of Illinois' advertising program, I got a job at an advertising agency, a couple of television stations, and finally at famed WSM Radio in Nashville, TN. I liked writing copy, and I was decent at it. Eventually I moved into writing a nationally syndicated country music radio show. I produced The Crook and Chase Countdown for more than 15 years. In the meantime, I met a man at a party on the stage of the Grand Ole Opry and married him on that famous stage a few years later. Over the years, I worked hard, helped raise my stepsons, and built a life.
But what I really wanted to do was write. Like Stephen King. In 2008, I quit my full-time job to go free-lance. Or as a friend calls it, I became self-unemployed. Actually, I did well enough for the first few years, continuing to work with Crook & Chase, as well as on projects for American Country Countdown with Kix Brooks and The Blair Garner show. A few years ago, I finally pushed past my doubts and fears and started my debut novel. It took me three years of fits and starts to finally finish it.
This summer, I unleashed it into the world. It's called Buku. It's not a horror novel, but there are monsters! And action. And suspense. I'm quite sure it's not as good as anything written by Stephen King. That's alright. I'm just pleased to finally be able to say to that timid girl in 6th grade – "Look what we did."
Got a question for me? You can write to me at jenniferandersonauthor@gmail.com.