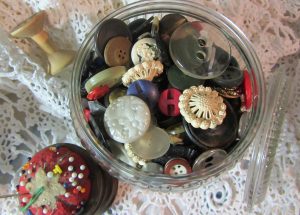 "Do you quilt?" asked the electrician, as I moved piles of stuff around in my laundry/sewing/craft area so he could get to the breaker box.
"No," I was forced to admit.
Nor do I use 95% of the fabric and various and sundry other things I have in bins and drawers and piles. Much of it was inherited from my late mother, who loved the idea of sewing much more than she did the actual activity.
But I can't blame her for all of my stacks. And I think I owe her an apology for the eye rolls over the years. Mom, turns out I'm a lot like you. While I don't generally buy fabric that I'll never use (at least not nearly as often), I'm still hanging on to some of what you bought. And I've kept all of the buttons and lace and tools and notions.
I think, more than the actual fabric and trim and fringe, it's about the possibilities. It's about what they could be, were we to invest the time. What we could be, if we took the time to invest. That's much harder to let go of, I think.