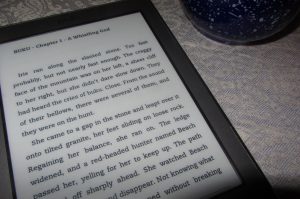 BUKU the prologue:
The way it began is kind of sketchy. At least now. Maybe at some point in time someone somewhere knew if Dr. Buddy Givens truly was a benevolent genius concerned with saving the world economy. That was the image he sold to governments around the globe, and the one they all bought lock, stock, and oil barrel.
A precious few at the time, and many more once it was too late to stop, attributed his motives to greed, megalomania, or out-and-out insanity. Some labeled him evil.
Trying hard to be heard above the manic hype, ecologists warned of historical disasters like kudzu and Asian carp, when the introduction of foreign species overwhelmed delicate ecosystems. A handful of savvy farmers and ranchers resisted the tidal wave. The religious right, of course, shouted that a man-made creature was an abomination against God.
In the end, it didn't much matter whether Givens was charitable or malicious or just plain naive. His scientific endeavors, once touted as the thousand-year solution to all the earth's energy woes, directly contributed to the collapse of modern society, the deaths of billions of people, and the threatened extinction of almost every living thing on God's once green earth…
….
So begins my debut novel Buku.