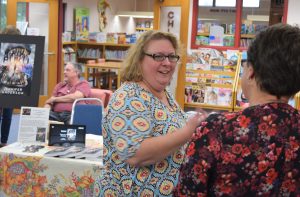 You know what they say about home. They say you can't go back.
I know why they say it. Because home isn't just a location. Home is also about a time… and about people. So even when you can plant your feet in the same physical space, time has marched on. And people have grown older, or moved away. Or died.
For all intents and purposes, I left my hometown of Eldorado, Illinois back in 1982, the year I moved away to the University of Illinois. Thereafter, I always had a different zip code, and quite a few at that. I was often in Eldorado since that's where my family was. But I no longer lived there. At the end of the week, or the weekend, I always went back 'home', to somewhere else.
For close to three decades now, the Nashville, TN area has been home. I currently live on a quiet street in a town called Gallatin. It's a pretty good size, compared to Eldorado. I usually don't run into people I know at the store. Some of my closest 'local' friends are still miles away. But it has become home to me. Meanwhile, back in Eldorado, my parents have both passed. Many of my friends are no longer there. I don't find time to visit very often.
But a couple of weekends ago, I went home again. I stayed with my brother. I shared meals with family and with good friends. And I did a book signing for my debut novel BUKU at the Eldorado Memorial Library. I've known the lady who set up the event a good portion of my life. My brother stayed for moral support the whole time. My dear friends Bruce and Julie came and took pictures.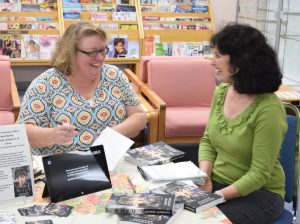 The first guy to walk in the door was Scott. Scott and I never did hang around together. But I've known Scott since we were in elementary school. The same with Jeff. And Mark. And Bonnie. I caught up with Chris and Janet and Sally and Mike. My neighbor Kim, who I spent countless hours riding bikes with back on Bramlet Street, was there. As was one of my besties from as far back as I can remember; Valery and I have so many shared memories of camp and school and sitting on the back row at church and giggling so hard the pew shook.
Former neighbors, mothers of friends, the husband of a former teacher. Jerri, who I was on a speech team with when we both attended the local community college. And Gary, my coach from those days. I hadn't seen either of them since the 90's, and we talked fast and tried to fill in the years.
There's something about people who knew you when you were young. Who are a part of your history. Who know your family and have stories on your brother. Who remember your parents and your grandparents.
Eldorado isn't the town it was when I was growing up. Many of the downtown buildings have collapsed due to age and neglect. My parents are gone; their house sits sad and empty. I can probably walk into the grocery store there and not recognize the faces. But how incredible is it, that thirty-four years after I moved away, I can go back and remember so much? And be remembered by so many. I was afraid I wouldn't know people. But I did. I may have forgotten people I worked with ten years ago. But I remember the faces of my hometown, the people I knew, and who knew me, when I was young.
So here's the thing. You can't turn back the clock. You cannot bring back those you love. But turns out, you can go home again.
I have lived in nine different towns (and parts of Nashville) since I moved away. I now reside in Gallatin. But no matter how long I live, I will always be from Eldorado, Illinois.